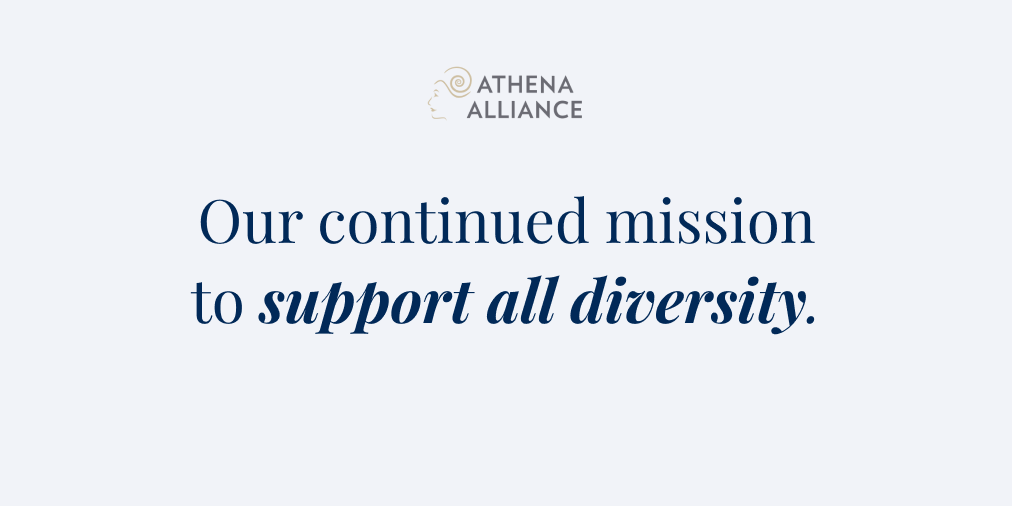 February 24th, 2022
This is the second annual "progress report" on where we've come – the wins along the way, and the progress yet to be realized.
At Athena, we are determined to be an inclusive organization, rooted in transparency, openness, curiosity, and a deep sense of commitment to each other's well being. There is no cancel culture at Athena. We respect our differences and each other's truths, and we work through issues, with compassion for the mistakes and flaws we perceive in others. We have a common commitment to respecting each other's fundamental human rights to be ourselves, to hold our own beliefs, and to be valued and treated equally. This is a difficult path to follow, but one we are deeply passionate about.
In the spring of 2020, sparked largely by George Floyd's death, a worldwide and long overdue upheaval around issues of equity and inclusion, and the fundamental care for human rights ignited in a way never seen before.
At that time, I – like so many others – made a business commitment on behalf of Athena that acutely focused on racial diversity. My commitment was to get the Athena community of top women executives to comprise, at minimum, 37.6% women of color. At that time, Athena membership was only 13% women of color; our goal was to be representative of the broader US population of women which was largely: Black women – 13.7%, Hispanic – 17.8%, Asian – 6.1%, according to Catalyst.org in 2020.
One of our core beliefs at Athena is that the top level of leadership should reflect the dynamics of society as a whole. So to start, Athena set its eyes on 37.6% to serve as our compass for moving forward.
Looking back…
One of the initial challenges in achieving this goal was data – gathering it and ensuring its reliability. In late 2021, we changed our onboarding to enable members to report their background to us from day 1. Note that we're tracking more than ethnicity; we're also tracking LGBTQ+ members, disabilities, and veteran status. In January 2021, when we last shared a broad progress report, we estimated we had achieved just over 34% diversity in our membership:
14.39% Black or African American (goal 14%+)
6.39% Asian Indian
7.58% Other Asian
3.14% Hispanic or LatinX (goal 17%+)
1.52% Multiracial or "some other ethnicity"
0.03% Native American or Native Alaskan (goal 1.5%+)
1.34% LGBTQ+ (goal 4%+ at the time though this number is rapidly rising)
Where we stand today
Today's numbers are pulled directly from our member onboarding survey of our over 1,000 members. Approximately 65% of members have answered the ethnicity and demographics section of that survey; they may have identified with more than one ethnicity. Of those participating members:
11.45% identified as Black or African American
12.89% identified as Asian
3.95% identified as Southeast Asian
7.63% identified as Hispanic or Latinx
2.11% identified as Middle Eastern or North African
0.92% identified as Native American or Native Alaskan
0.03% identified as Native Hawaiian and Other Pacific Islander
64.61% identified as White as part of their ethnicity
0.66% identified as Some other Ethnicity as part of their ethnicity
And, approximately 60% of members provided LGBTQIA+ demographic information, with 4.57% of members identifying as LGBTQIA+, non-binary, or some other gender.
Our latest data demonstrates that we have made huge leaps in a few of the demographic areas we felt were lagging last year. While our Native American representation has held steady, Athena has more than doubled its Hispanic and Latinx members and more than tripled its LGBTQIA+ community. Our members who identify as Asian have also doubled, as reflected in these latest numbers.
A large part of our success in moving our diversity metrics came to fruition in the early fall of 2020 thanks to notable financial backers and believers in Athena. Through their generosity, 209 diverse women were sponsored into Athena (a one-year membership at our then Self-Service level, no fees attached). Athena evolved and strengthened our membership over the course of a mere few months, which has in turn led even more diverse members to join us through the power of referrals and a strong network effect. And, it's exciting to see so many of these incredibly diverse women leaders stay with us long after their sponsored memberships have come to an end.
On our evolving board and team, diversity thrives
Part of our diversity effort is also about looking inward and seeing how our team is evolving, including our board. I'm excited to report that Michele Bettencourt, a 3-time CEO, trans woman, and huge Athena supporter is joining our board! Michele has served as a mentor, guide, advisor, and friend since I met her in 2020. She brings a unique perspective to Athena – not only is she able to share her vast trove of knowledge with our members on everything from mergers and acquisitions, taking over as the new CEO, the path to IPO, fundraising, and so much more – but she can do it all with a layer of male executive perspective.
Additionally, we continue to track diversity within the broader operational team. Today, our internal team is over 50% ethnically diverse and 11% LGBTQIA+. And we are from all over the world: Africa, Asia, Eastern and Western Europe, South and Central America, Australia, Canada, and broadly across the United States. We continue to grow with intention: purposely hiring around the world with an eye on diversity beyond culture and race to variety in education, religion, politics, generation and experience level.
This is something we collectively cherish and celebrate.
What's next for Athena? 
As time goes on and we get more and more comfortable that Athena mimics the diversity of society in all ways, our focus and monitoring will shift to ensuring we stay that way – and to getting more and more sophisticated in how we support inclusion in every way possible.
We will remain committed to tracking how society is changing and ensuring the demographics of society are seen in the demographics of our membership in at least equal proportion. We are starting with women, but we are challenging ourselves to embrace men in the near future. And, in the meantime, anyone who falls on the continuum of gender as a woman or non-binary is welcome.
Additionally, we'll continue to work hard to ensure our programming and product offering is just as diverse as the members it serves. With this in mind, a few tactical areas of focus from Athena this year:
Salon Leaders – We want to ensure we have Salon speakers who are representative of every background and function, from a wide range of perspectives. We have 300+ original videos in our on demand library of executive learning today, growing by over 30 new pieces of content a quarter. 90+% is delivered by women, and over 25% of the expert hosts and speakers for these are diverse women. We intend to see this number become at least 40% in 2022.
Coaches – The same goes with our executive coaching team: it's critical that our members can meet with coaches that they are comfortable with, to whom they can relate. Today 100% of our coaches are women, and 25% are diverse. Here, too, we intend to see diversity of at least 40% in 2022.
As a team, we will continue to focus on the fact that building an inherently unbiased and inclusive product requires a broadly diverse team. We are committed to continuing to build our team around the globe, with multi-cultural, multi-religious, multi-political, multi-generational, and multi-economic backgrounds.
As for me, I'll continue to share these updates with you annually at a minimum. I encourage you to challenge me and ask questions. Like most companies, Athena is far from perfect. We are a real-time work in progress. We are not looking for a quick win, we are not looking to check a box – we are wholly committed to ensuring that diversity at the top of society mimics the diversity within it. That's our north star. It's simply how we show up. Every single day.